Untold Stories History Trail in Gladstone Park
In 2022, Charmaine Simpson was commissioned to provide the content for Untold Stories History Trail in Gladstone Park. The Untold Stories project seeks to raise awareness of the Black presence in Brent and celebrate people of African and Caribbean descent with a connection to Brent who have achieved brilliance in their area of endeavour or community leadership. You can view the history trail in Gladstone Park, Dollis Hill Lane, London, NW2 or go to https://untoldstoriesbrent.cargo.site. You can view more Brent Heroes online and there is also the opportunity to nominate someone who you think we've left out.
African History of Sport Documentary
2015 - 2018
Black History Studies in partnership with the Institute of Black Culture, Media and Sport and the Petrie Museum contributed to the research and production of the new documentary the 'African History of Sport'
At least five thousand years ago, ancient Nile Valley African Civilisations KMT/Egypt, Nubia/Sudan, and Ethiopia, invented a 'Grand Philosophy' which they called several names, including Sewetwet and Sedjay Her.
For the peoples of the Nile, 'Sewetwet' and 'Sedjay Her', were the ultimate union of brain, brawn and spirit. They used them for pleasure, leisure, warcraft or military training, governance and foreign policy; and treated them on par with intellectual fields like: religion, law, medicine, natural sciences, art, and a combination of them all. Eventually, these activities became known and popularly practiced as Sport.
Today, few education systems in the world; if any, treat sport as a product of thought; for example, the British National Curriculum introduces sport to children, as PE or physical education. Ironically, sport involves all intellectual properties or characteristics; but is not treated academically by Primary and Secondary Schools.
Perhaps, this is because the 'Grand Philosophy of Sewetwet and Sedjay Her' invented by Black Africans, did not survive invasion and colonisation by Greeks; or colonisation and enslavement by Romans, Arabs and Western Europeans; all of whom destroyed the philosophical and spiritual premise of Sewetwet/Sedjay Her; and reduced them to physical activities for the brawny. This film revisits scenes of ancient glory.
The African History of Sport was funded by Heritage Lottery Fund.
Black History Studies organised the FREE launch screenings that took place on the following dates:
UK Premiere Screening on Friday 6th April 2018 from 6.30pm to 9pm at University College of London (UCL), London.

North London Premiere Screening on Saturday 14th April 2018 from 6pm to 9pm at St Ann's Library in Tottenham.

South London Premiere Screening on Sunday 29th April 2018 from 1pm to 3pm at Upstairs at the Ritzy Cinema, Ritzy Cinema in Brixton.

East London Premiere Screening on Tuesday 1st May 2018 from 7pm to 9pm at Hackney Attic, Hackney Picturehouse in Hackney.
Some video feedback is below:
African History of Sport Family Workshops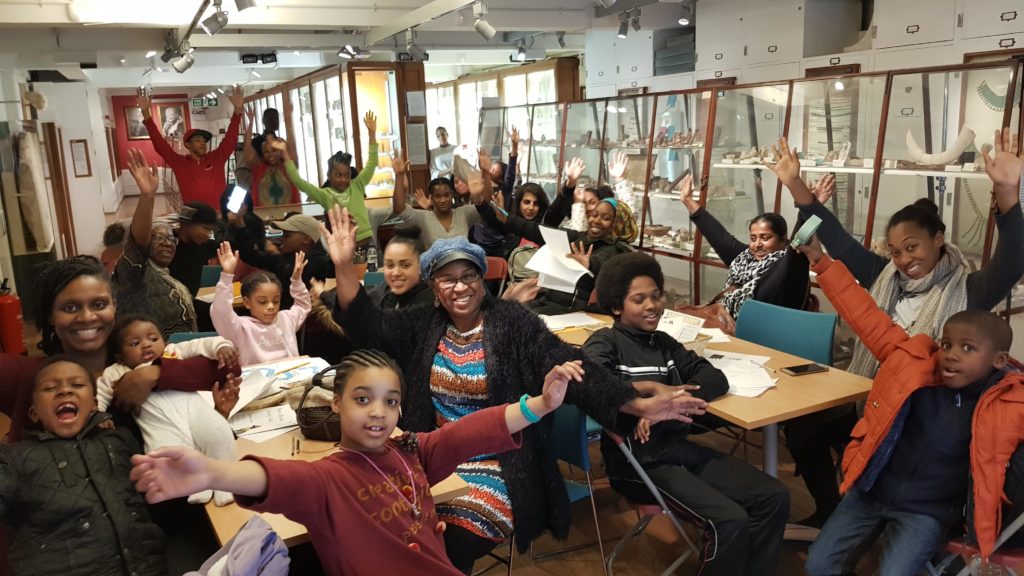 Learning as a family encourages, enables and empowers parents to develop a deeper understanding of how to expand your children's learning at home. Family learning raises academic achievement; and enhance family wellbeing.
Make History come to life with an 'African History of Sport' workshop led by Charmaine Simpson of Black History Studies, in partnership with the Petrie Museum. Children will experience learning about different areas of sporting history; and will be able to explore the evidence of sports played in Ancient Egypt, and other Nile Valley Civilisations. Children will be able to use different learning styles to solve problems, as they work in teams, enjoy themselves, AND learn African History.
The workshops are based on 'The African History of Sport' documentary, produced by the Institute of Black Culture, Media and Sport in 2017.
The three two hour workshops covered different areas of sport. All workshops were held at The Petrie Museum of Egyptian Archaeology, Malet Place, London, WC1E 6BT.