Black History Study Tours and La Clairière Bio & Spa Hotel
 Presents 
Live and direct from Strasbourg, France 
 'YOGA ON DUB' WITH JAH 9
From Sunday 16th June to Saturday 22nd June 2019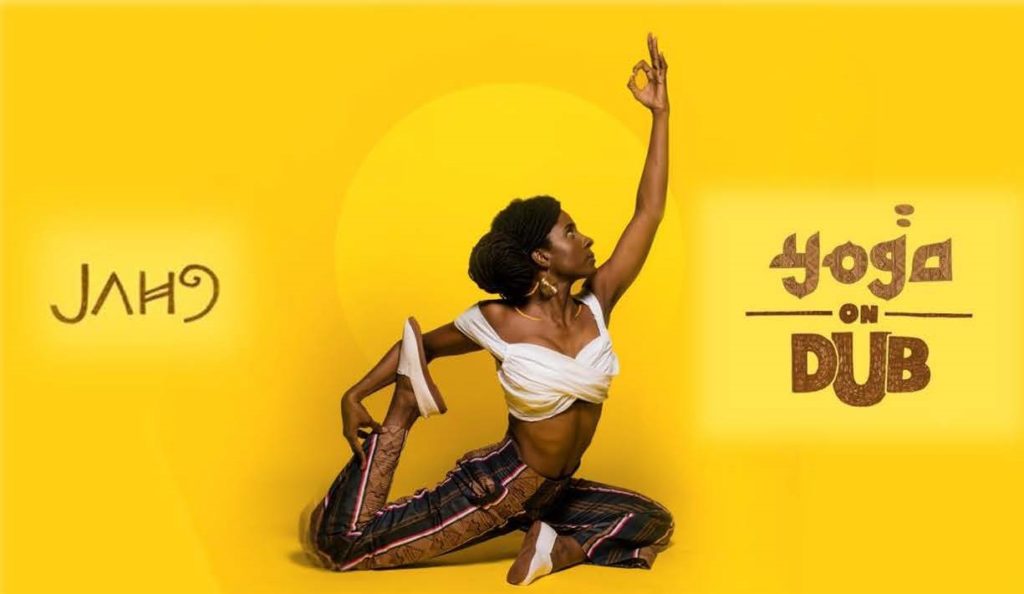 La Clairière, Bio & Spa Hotel is located in the heart of the forest of the Northern Vosges in Northeastern France and we would love for you to join us for the "Forest Spirit Festival" and a week of 'Yoga on Dub' with international Reggae artist and Yoga Teacher JɅН Ꝯ from 16th to 22nd of June 2019.
This Fantastic 'Yoga On Dub' Experience is Open To Beginners.
Throughout the 6 Days, this program aims to share a moment of Mindfulness Combining Forest Bathing, the Practice Of Yoga In The Multiplicity Of Its Manifestations but also different forms of Meditations and Expressions of the Arts.
The Program for the week's activities are as follows:
Programme
Sunday 16th June 2019
Arrival
12-3pm Welcome Drink And Vegan Brunch
 3pm Check In
 5pm Forest Bathing
9pm Concert – Jah 9 And The Dub Treatment Band
Monday 17th June 2019
11am Kemetic Yoga With Jah9
5pm Yoga On Dub With Jah9
8pm Film On Rastafari Culture And Discussions With Jah9
Tuesday 18th June 2019
11am Kemetic Yoga With Jah9
5pm Forest Bathing
 9pm 'Jam Session' With The Dub Treatment Band
 Wednesday 19th June 2019
11am Kemetic Yoga With Jah9
5pm Qi Gong
 6pm Meditation With Jah9
 Thursday 20th June 2019
11am Kemetic Yoga With Jah9
 2pm Vegan / Ital Cooking Class
 5pm Tai Chi
 Friday 21st June 2019
11am Forest Mandala To Celebrate The Summer Solstice
2pm Free Time, Afternoon And Evening Out
 (For Your Information, But Not Included In This Package)
Option 1 : Strasbourg : Visit Of The Vodou Museum, Unique Museum, Which Houses The World's Largest Private Collection Of West African Vodou Artefacts;  Alsatian Dinner And "Fête De La Musique" Strasbourg
Option 2 : Spa And Visit Of The Nearby Zen Monastery With A Zazen Meditation Session 
Saturday 22nd June 2019
Early Checkout And Departure

Price of Retreat
Single occupancy price: £1099.00
Shared occupancy price: £999.00 per person
Children up to the age of 12 stay for free
(but you will have to pay for their lunch and dinner each day)
The above prices does not include travel
Full travel information will be provided in the tour pack. Please email info@bhstours.com 
 The price includes : 
Sunday brunch on arrival

And half board for the duration of your stay

(half board = provision of bed, breakfast and dinner)

Spa entry and entry to all activities

And workshops for the duration of your stay
Set in the forests of Alsace, La Clairière is in complete harmony with its sylvan surroundings. The environment boosts your energy levels, helps recharge your batteries and inpires you to adopt a healthier lifestyle. 
La Clairière espouses an approach of overall well-being, achieved through a combination of holistic treatments, energising, organic cuisine, and the aura of an exceptionally beautiful natural environment.
On offer:
A certified organic and savory energy-boosting cuisine inventively & exclusively combined from organic products (vegetarian & vegan options)

A spa opening out into the forest, with an abundance of steam baths, saunas, a heated outdoor hydrotherapy pool and an indoor swimming pool

Holistic treatments inspired by traditional therapies (naturopathy, traditional chinese medicine and ayurveda)

La clairiere have an ecological attitude, Which goes hand in hand with sustainable development
For more information check out the website below.
La Clairière, La Petite Pierre, Alsace, France www.la-clairiere.com
To avoid disappointment, please register your interest as early as possible by calling 0208 881 0660 or 07951 234233 or emailing info@bhstours.com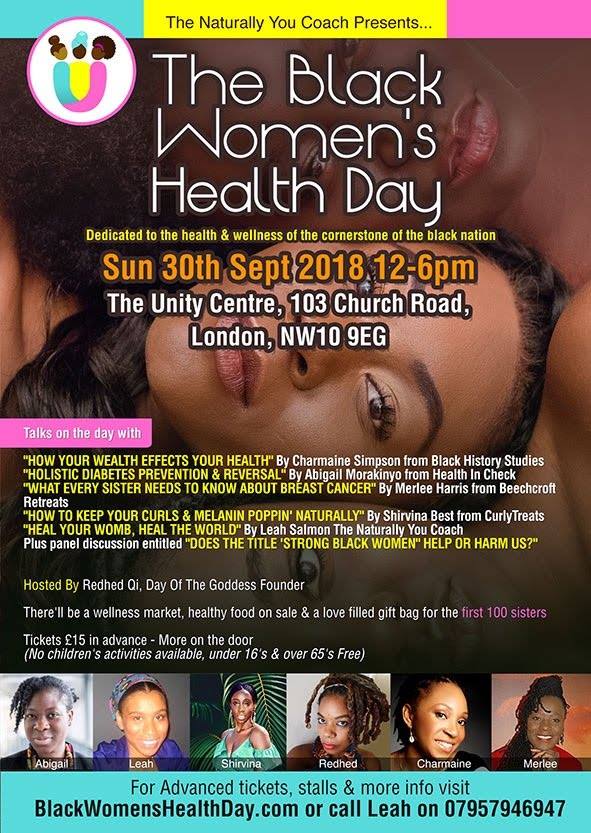 The Naturally You Coach Presents…
The Black Women's Health Day
Sunday 30th Sept 2018 12pm – 6pm
The Unity Centre, 103 Church Road, London, NW10 9EG
Dedicated to the health & wellness of the cornerstone of the Black nation
Talks on the day by
"How Your Wealth Effects Your Health" By Charmaine Simpson from Black History Studies

"Holistic Diabetes Prevention & Reversal" By Abigail Morakinyo from Health In Check

"What Every Sister Needs To Know About Breast Cancer" By Merlee Harris from Beechcroft Retreats

"How to keep your curls & melanin Poppin' Naturally" By Shirvina Best from CurlyTreats

"Heal your womb, heal the world" By Leah Salmon The Naturally You Coach

Plus panel discussion entitled "Does the title 'Strong Black Women' help or harm us?
Hosted By Redhed Qi, Day Of The Goddess Founder
There'll be a wellness market, healthy food on sale & a love filled gift bag for the first 100 sisters
Tickets £15 in advance – More on the door
(No children's activities available, under 16's & over 65's Free)
For Advanced tickets, stalls & more info visit BlackWomensHealthDay.com or call Leah on 07957946947