BLACK ECONOMIC EMPOWERMENT COURSE
Starting Wednesday 7 April 2021 – Wednesday 12 May 2021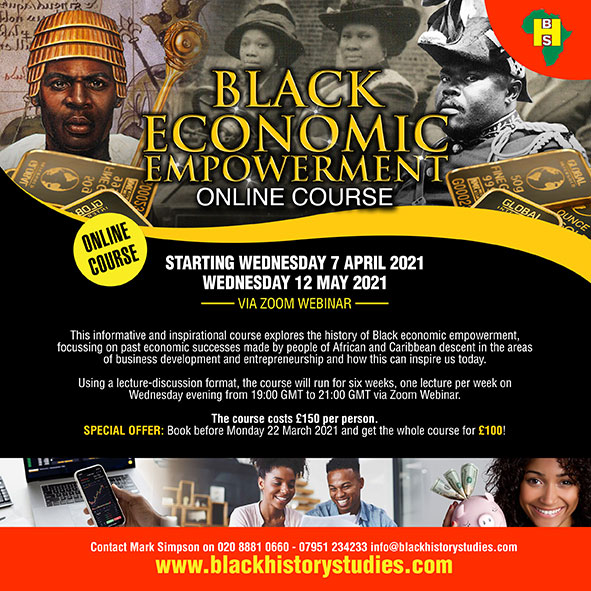 This informative and inspirational course explores the history of Black economic empowerment, focussing on past economic successes made by people of African and Caribbean descent in the areas of business development and entrepreneurship and how this can inspire us today.
This course will show participants in a practical way how to take financial control by making educated financial decisions gained through financial literacy. This course covers a variety of topics including debt reduction, saving strategies, investing and planning for the future and other tools that will help get on the road to personal financial success.
This is an introductory course and assumes no prior knowledge of the subject area, but the adult student is taken through an avalanche of information. The course will be taught through illustrated lectures, group activities and discussion.  Reading lists are provided. There are no entry requirements for this course and learners will not have to take any exams.
Using a lecture-discussion format, the course will run for six weeks, one lecture per week on Wednesday evening from 19:00 GMT to 21:00 GMT via Zoom Webinar.
COURSE CONTENT:
Class One: Financial Literacy, Goal Setting and Money Mindsets
Class Two: Spending, Budgeting & Financial Planning
Class Three: Build Credit & Control Debt
Class Four: Savings, Retirement & Investing
Class Five: Protect Your Wealth: Asset Protection Strategies
Class Six: Multiple Streams of Income & Financial Freedom
ENROLMENT AND FEES
The course fee for the whole 6 weeks course is £150 per person.
SPECIAL OFFER: Book before MIDNIGHT on Monday 22nd March 2021 and get the whole course for £100!
HOW TO BOOK
To book your place offline via using cash, bank transfer, cheque or postal order, please email info@blackhistorystudies.com for a booking form.
To book online and pay by debit or credit card, click the buy now button (PayPal transaction fees are payable).
Please ensure that you have read our terms and conditions before booking using this method.
Here are some comments from evaluations forms completed by past students:
"The course delegates interacted well and generated discussion. Charmaine is very approachable, open and helpful. Good to have theory and real life experiences to back up course content and references to refer to." 
 "Inspiring and provided focus. The environment was very welcoming and attendees were free to express their ideas and opinions and ask questions. I recommend this course and would be interested in any further advance courses by Black History Studies."
 "Lots learnt that can be put into practise. I feel ready and equipped to plan my own business." 
 "A good overview of what the African community can achieve and what I can do to increase my financial literacy."  
 "The course was excellent, it gave me in-depth, practical and very useful knowledge about economic empowerment and how it will benefit me and others."
 "The Cashflow 101 game has helped me to realise that the rat race as a concept, can be escaped from, by working towards a pre-planned dream with careful planning."
Places on these courses are limited and are available on a strictly first come, first served basis and we anticipate that there will be a lot of demand for this course. 
If you would like to attend this course, please contact us for an enrolment form.