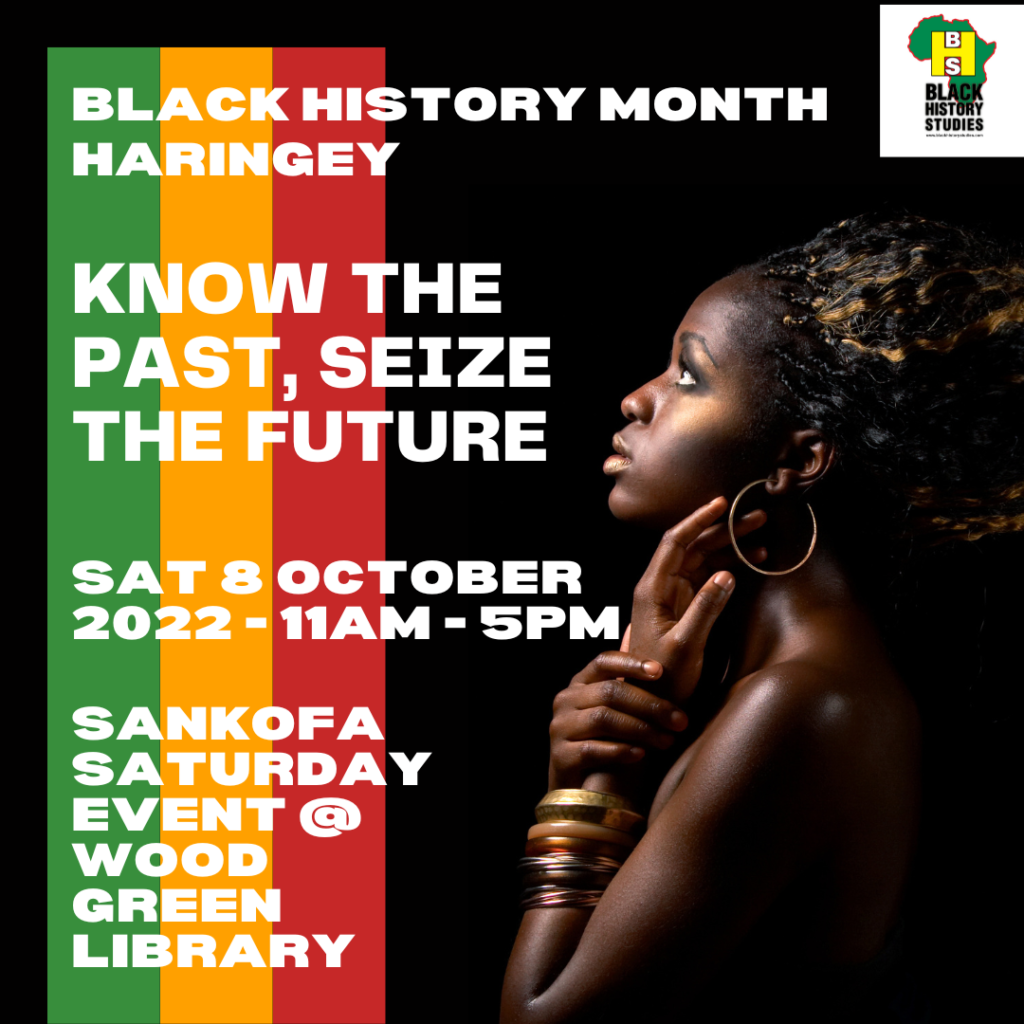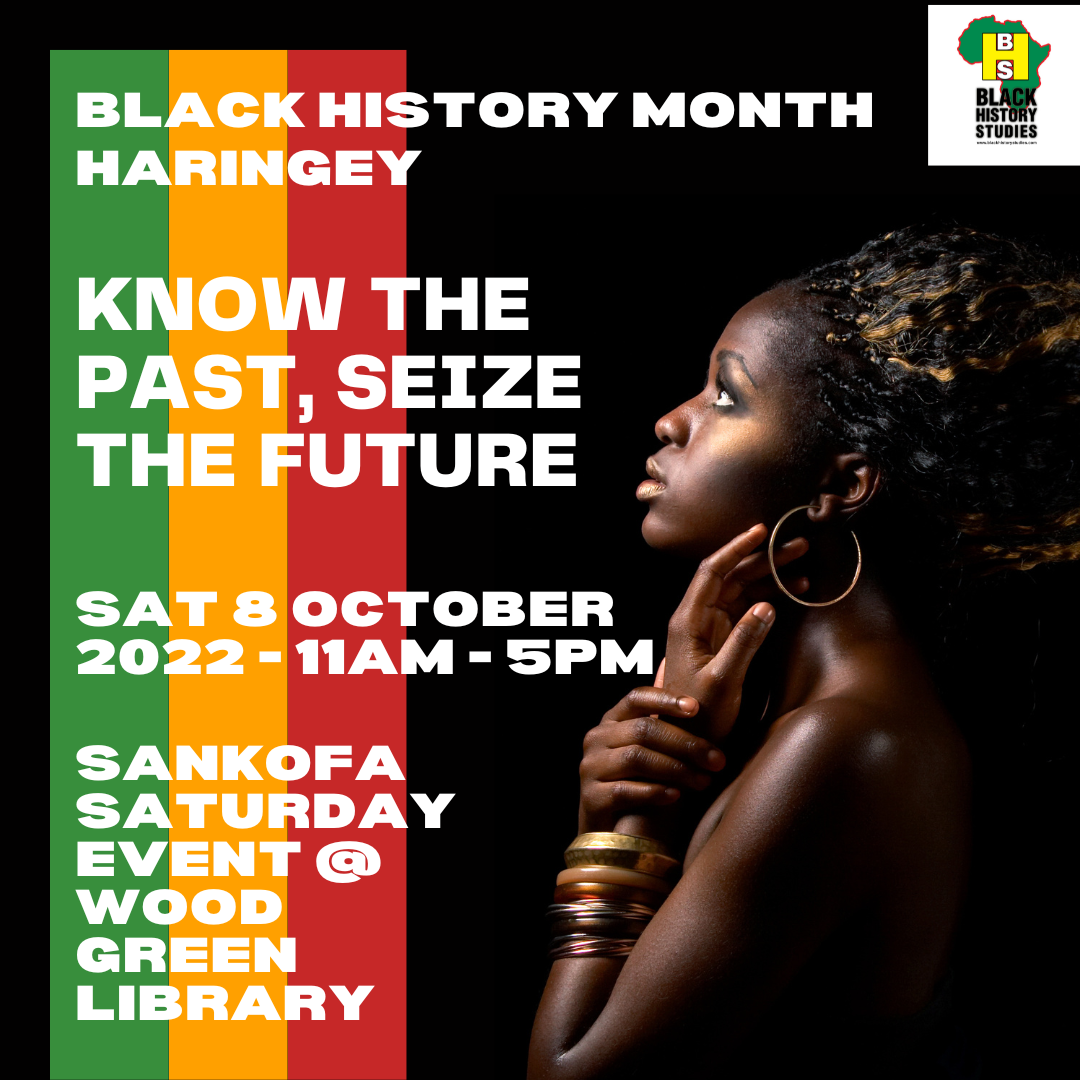 FREE EVENT FOR HARINGEY'S BLACK HISTORY MONTH PROGRAMME

Black History Studies presents a day of film screenings, presentations and children's activities at Wood Green Library on Saturday 8th October 2022 from 11am to 5pm.
Highlights include Black Cultural Market with stalls selling books, art, food, jewellery, and much more.
11:00 am – Opening
11.115am – Sankofa Saturday Children Film Club
Meltrek Episode 1: African History Before Slavery
Join Bunchy, Percy, Michelle, Jessie, and Chen as they go on an exciting adventure back in time to Ancient Africa. Upon their arrival they meet Rameses, a teenage Egyptian boy, who takes them on a fun-filled journey around Africa. Their journey begins in the Nile valley. While there, the children learn about the Egyptian kings and queens, explore pyramids, tekhens, temples, and schools. Rameses and the children explore other great kingdoms and empires such as Ghana, Mali, Songhay, Congo, Zimbabwe, and Zulu.
Meltrek Episode 2: Exploring The Pre-Columbian Americas
Exploring The Pre-Columbian Americas is the second episode of the Meltrek series. Join Bunchie, Percy, Michelle, Jessie and Chen as they travel back in time to explore the pre-Columbian Americas. During their journey, they learn about several aboriginal cultures, defining structures, and nations who arrived in the Americas prior to Christopher Columbus.
12.30pm – Presentation: Presentation: The Black Presence in Haringey / Black Haringey Heroes
This fascinating presentation by Black History Studies focuses on the hidden history of London and the contributions made by people of African and Caribbean descent to the London Borough of Haringey. We will focus on the lives, work, and legacy of remarkable men and women who have lived, worked, and contributed to Haringey such as Walter Tull, Bernie Grant, Dyke & Dryden, and more.
2.00pm – Film Screening: Black London: A Bigger Picture
Black History Studies presents a specially curated programme of archive footage representing Black communities in London with films from the 1950s up to the turn of the century. This programme has been compiled by London's Screen Archives as part of the London: A Bigger Picture project. Come and see representations of the Black community from London Boroughs on film.
4.00pm – Margins to Mainstream: The Story of Black Theatre in Britain
Margins to Mainstream: The Story of Black Theatre in Britain is a documentary film produced by the Octavia Foundation and Nu Century Arts, Birmingham with funding from the Heritage Lottery Fund. This ground-breaking film explores the history and heritage of Black theatre in Britain, examines the different interpretations of 'Black British Theatre' as a label and genre and catalogs the incredible contribution of black actors, producers, and playwrights to the UK theatre tradition. Featuring previously unseen footage of seminal plays, and fascinating interviews with theatre heavyweights, 'Margins to Mainstream' tells the story of a dynamic art.

Historians, playwrights, producers and actors that contributed and appear in the film include writer and playwright Courttia Newland, actor Javone Prince, actor, playwright and broadcaster Kwame Kwei-Armah and Pat Cumper, Director of the Talawa Arts Centre. The film was shot at locations including Theatre Royal East, London Southbank Centre, Royal Court Theatre, Old Vic and The Tabernacle.
From Ira Aldridge playing Othello in Covent Garden in the 1830s, to Bashy playing Markus the Sadist in a 'rap opera' in 2010; the richness of this story is in its diversity. The film looks at the forgotten treasures and the landmark performances in the huge canon of work that exists. The film is pioneering in its subject and approach, highlighting the battles and the triumphs of Black British Theatre, on its journey from the margins, into the mainstream.
5.00 – Close
THIS EVENT IS NOT TO BE MISSED!!
This event will take place on SATURDAY 8TH OCTOBER 2022 from 11am to 5pm.
This event will be held at Wood Green Central Library, 187-197A High Road, Wood Green, London N22 6XD. Approx 5 mins walk from Wood Green Station (Piccadilly Line). Buses 29, 67, 121, 123, 141, 144, 184, 221, 230, 232, 243, 329, W3, W4 stop nearby.
Admission will be FREE. Secure your free ticket.
Book your FREE ticket here https://haringeysankofasaturday.eventbrite.co.uk