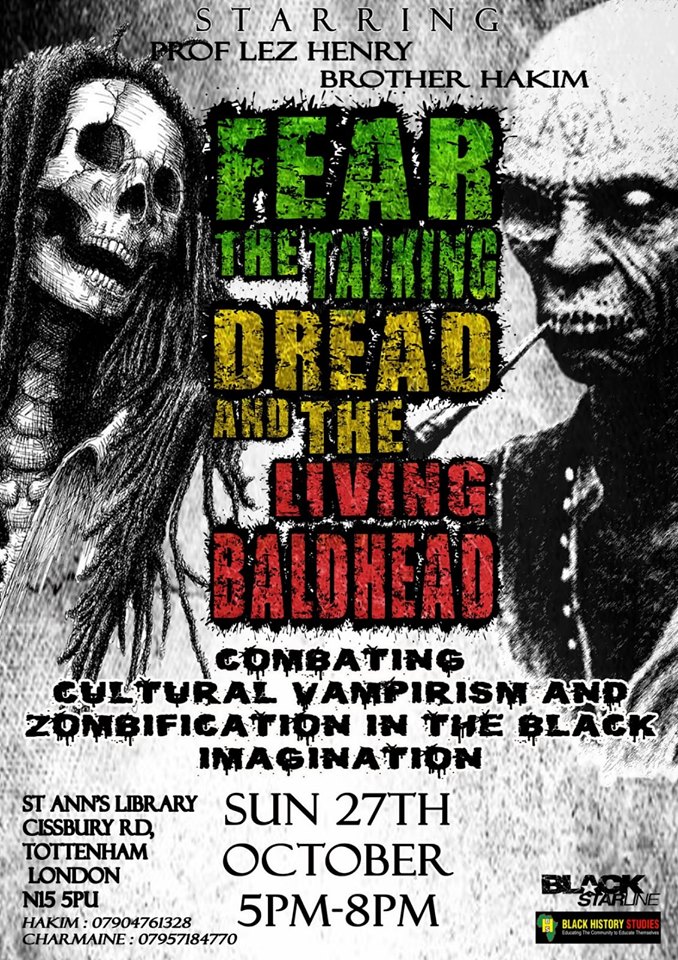 Black History Studies in association with Professor Lez Henry and the Film Doctor Brother Hakim presents 'FEAR THE TALKING DREAD AND THE LIVING BALDHEAD: Combating Cultural Vampirism and Zombification in the Black Imagination!!'
Have you ever considered why zombie and vampire films are ever-present in contemporary society? From children's cartoons to all out-horror films we can't seem to escape them, but what can they tell us about black life in a white world? In this talk the Film Doctor, Brother Hakim & Prof Lez Henry will take you on an interactive journey through film, and other forms of media, to highlight how the Black personality is under attack and how Garvey's notion of 'a tree without roots' and Bob Marley and the Wailers' tune 'Babylon System is the vampire' offer ways to combat this mindset. We ask that you bring your mind and make sure it is open. Bless
Everyone welcome come as a family group, come with your friends or just come on your own but spread the word.
THIS EVENT IS NOT TO BE MISSED!!
This event will take place on SUNDAY 27TH OCTOBER 2019 at St Ann's Library, Cissbury Road, Tottenham, London, N15 5PU. Approx 10 mins walk from Seven Sisters Station. Free on-street parking from 6.30pm. Buses 67, 259, 279 stop nearby.
Doors open at 4.30pm. Event starts at 5.00pm.
TICKET ONLY EVENT
Advanced tickets will cost £7.00 plus booking fee. Children under 16 are FREE. Tickets are non-refundable and non-transferable.
Book your ticket before 3pm on Sun 27 October 2019.
Book your tickets from:
Eventbrite: https://culturalvampirismbreakdown.eventbrite.co.uk
Jus-tickets: https://jus-tickets.com/events/fear-the-talking-dread-and-the-living-baldhead-combating-cultural-vampirism-and-zombification-in-the-black-imagination/