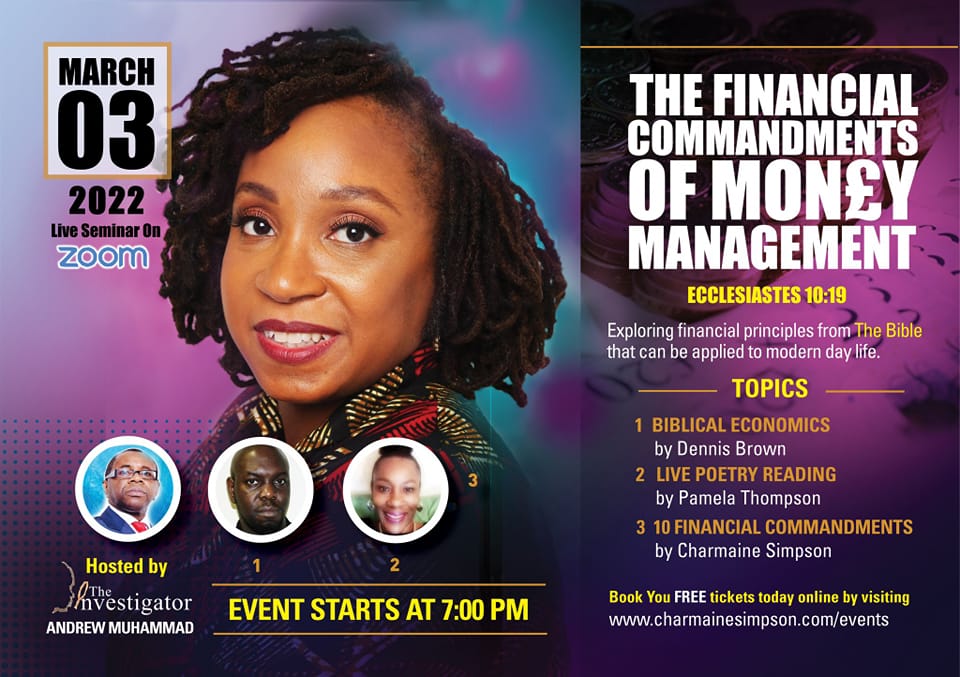 In this FREE webinar, we will assess the value of #financial education, by drawing from Christian theology — especially The Bible — as well as from financial literacy and practice.
There are Biblical financial lessons that can be applied to modern life. So with that in mind, we will explore as well as discuss, Ten Financial Commandments and essential principles to follow, regarding your personal finances, which will help to set yourself up for a prosperous financial future.
The event will be hosted by The Investigator Andrew Muhammad, a Historian, as well as an Independent Educational and Cultural Consultant.
Don't miss live poetry from the amazing Pamela Thompson of Higher Potential.
The evening will feature a presentation by Financial Educator Dennis Brown who will speak on Biblical Economics, drawing from Christian Theology and Financial Literacy.
Finally Financial Consultant and Educator Charmaine Simpson who will show participants on how to take financial control, by making educated financial decisions, based on The Ten Financial Commandments of Money Management.

THIS EVENT IS NOT TO BE MISSED!!
This event will take place on THURSDAY 3RD MARCH 2022 from 19:00 to 21:00 GMT.
Tickets for this event are FREE.
Book your ticket at https://us02web.zoom.us/webinar/register/WN_i1bit78USIqirXf7Z1fhPw
This is a WEBINAR via Zoom. The Zoom link will be provided upon registration.
*** THE PRESENTATION STARTS AT 19:00 UK TIME. PLEASE JOIN THE WEBINAR ON TIME VIA ZOOM TO AVOID MISSING OUT ***
Things to note:
– This webinar will not be recorded.
– Tickets for this webinar are non-refundable and non-transferable.