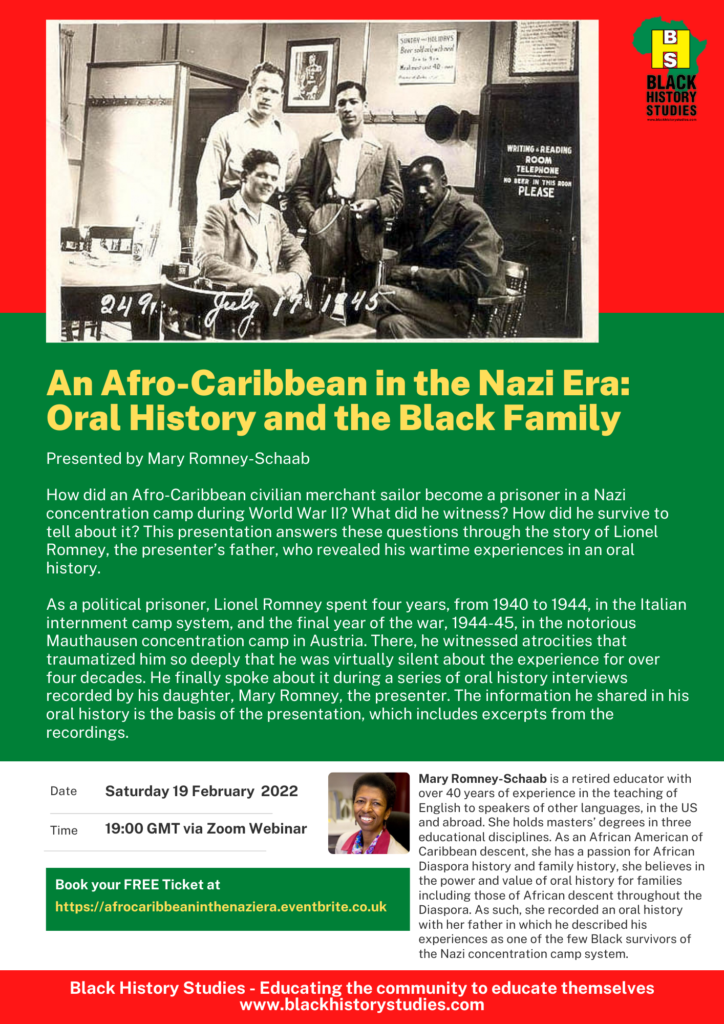 An Afro-Caribbean in the Nazi Era: Oral History and the Black Family
Presented by Mary Romney-Schaab
How did an Afro-Caribbean civilian merchant sailor become a prisoner in a Nazi concentration camp during World War II? What did he witness? How did he survive to tell about it? This presentation answers these questions through the story of Lionel Romney, the presenter's father, who revealed his wartime experiences in an oral history.
As a political prisoner, Lionel Romney spent four years, from 1940 to 1944, in the Italian internment camp system, and the final year of the war, 1944-45, in the notorious Mauthausen concentration camp in Austria. There, he witnessed atrocities that traumatized him so deeply that he was virtually silent about the experience for over four decades. He finally spoke about it during a series of oral history interviews recorded by his daughter, Mary Romney, the presenter. The information he shared in his oral history is the basis of the presentation, which includes excerpts from the recordings.
Presenter Background:
Mary Romney-Schaab is a retired educator with over 40 years of experience in the teaching of English to speakers of other languages, in the US and abroad. She holds masters' degrees in three educational disciplines. As an African American of Caribbean descent, she has a passion for African Diaspora history and family history, she believes in the power and value of oral history for families including those of African descent throughout the Diaspora. As such, she recorded an oral history with her father in which he described his experiences as one of the few Black survivors of the Nazi concentration camp system.
Her book An Afro-Caribbean in the Nazi Era: from Papiamentu to German will be available for purchase at the event.
THIS EVENT IS NOT TO BE MISSED!!
BRING YOUR CHILDREN TO LEARN ABOUT BLACK HISTORY NOT TAUGHT IN SCHOOLS!!
This webinar will take place on Saturday 19th February 2022 from 19:00 to 21:00 GMT (14:00 EST, 13:00 CST, 11:00 PT)
Tickets for the webinar are FREE.
This is a WEBINAR via Zoom. The Zoom link will be provided upon registration.
Book your FREE ticket at https://afrocaribbeaninthenaziera.eventbrite.co.uk
Things to note:
– This webinar will not be recorded.