In partnership with Black Cinema Club, Black Starline and Black History Studies, The New Black Film Collective presents
'HERO' Inspired by the Extraordinary Life and Times of Mr. Ulric Cross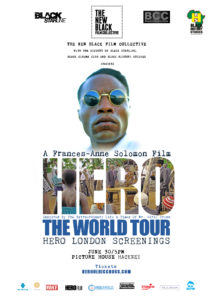 In 1941 Ulric Cross, a young man from Trinidad, left his island home to seek his fortune. He survived the Second World War as the RAF's most decorated West Indian airman, but then his life followed a very different course, leading him to become a central figure in the independence movements sweeping Africa in the '50s and '60s.
HERO is not just about Cross's extraordinary life and journey but about the dynamic and transformative times in which he lived. It tells the untold story of those Caribbean professionals who helped to liberate Africa from colonialism, shining a light on an important chapter in Caribbean history, and on Caribbean identity itself.
Director: Frances-Anne Solomon
Starring: Peter Williams, Nickolai Salcedo, Joseph Marcell
Duration: 110 min
Host: Charmaine Simpson (Black History Studies)
Panel: Frances-Anne Solomon (Director) Trevor Hakim (Black Starline), Jide (Black Cinema Club)
The film will be followed by an afterparty with rum & reggae!
This event will take place on Sunday 30th June 2019 at Hackney Picturehouse, 270 Mare Street, London, E8 1HE.
For location details and travel information, please go to https://www.picturehouses.com/cinema/info/Hackney_Picturehouse#disabled-access
Doors open at 4.30pm. The event will start 5.00pm.
Purchase your tickets from https://ticketing.picturehouses.com/Ticketing/visSelectTickets.aspx?cinemacode=010&txtSessionId=48537&visLang=1
PLEASE SHARE WITH YOUR FRIENDS AND FAMILY!