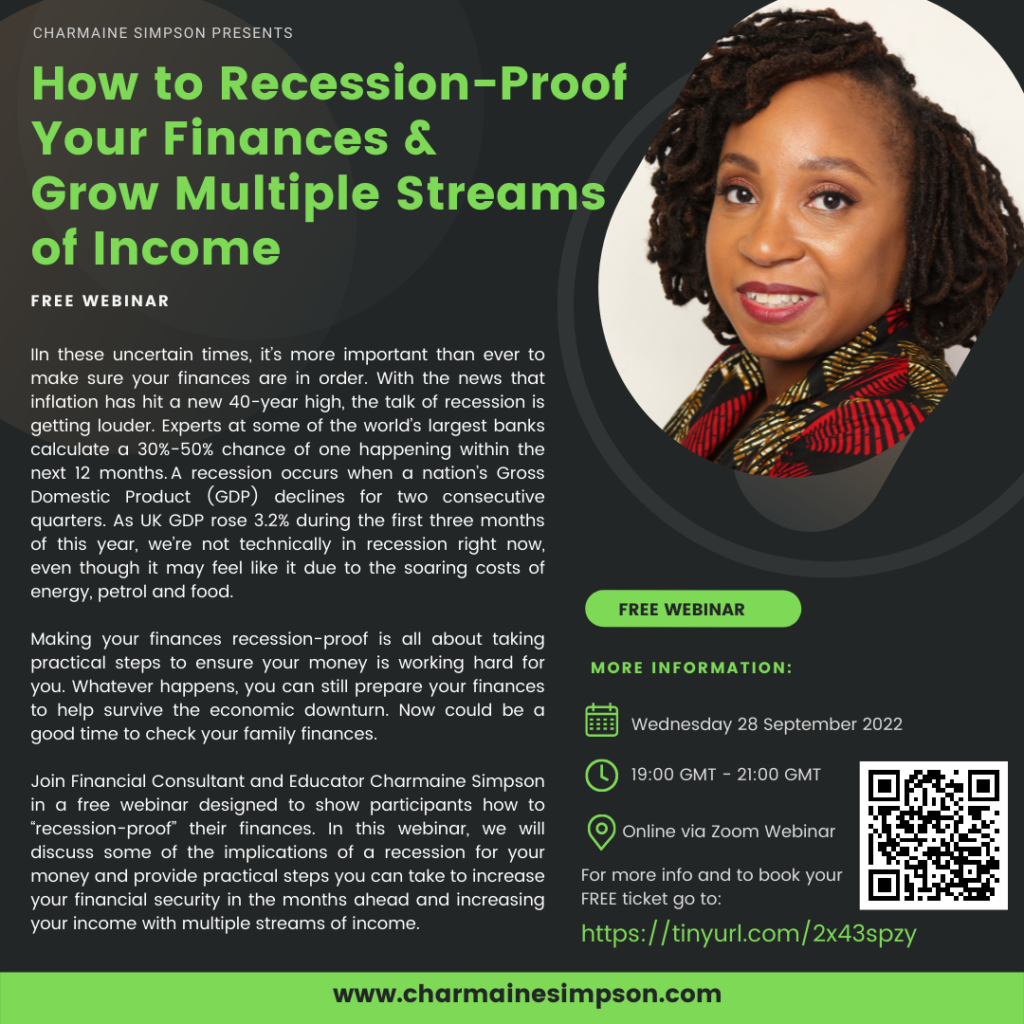 In these uncertain times, it's more important than ever to make sure your finances are in order. With the news that inflation has hit a new 40-year high, the talk of recession is getting louder. Experts at some of the world's largest banks calculate a 30%-50% chance of one happening within the next 12 months. A recession occurs when a nation's Gross Domestic Product (GDP) declines for two consecutive quarters. As UK GDP rose 3.2% during the first three months of this year, we're not technically in recession right now, even though it may feel like it due to the soaring costs of energy, petrol and food.
Making your finances recession-proof is all about taking practical steps to ensure your money is working hard for you. Whatever happens, you can still prepare your finances to help survive the economic downturn. Now could be a good time to check your family finances.
Join Financial Consultant and Educator Charmaine Simpson in a free webinar designed to show participants how to "recession-proof" their finances. In this webinar, we will discuss some of the implications of a recession for your money and provide practical steps you can take to increase your financial security in the months ahead and increasing your income with multiple streams of income.
THIS EVENT IS NOT TO BE MISSED!!
This webinar will take place on Wednesday 28 September 2022 from 19:00 to 21:00 GMT.
Book your free ticket at https://us02web.zoom.us/webinar/register/WN_SXoHOdcTTrGSr0WjG4KUjA
This is a WEBINAR using Zoom. The Zoom link will be provided upon registration.
*** THE PRESENTATION STARTS AT 19:00 UK TIME. PLEASE JOIN THE WEBINAR ON TIME VIA ZOOM TO AVOID MISSING OUT ***
Things to note:
This webinar will not be recorded.