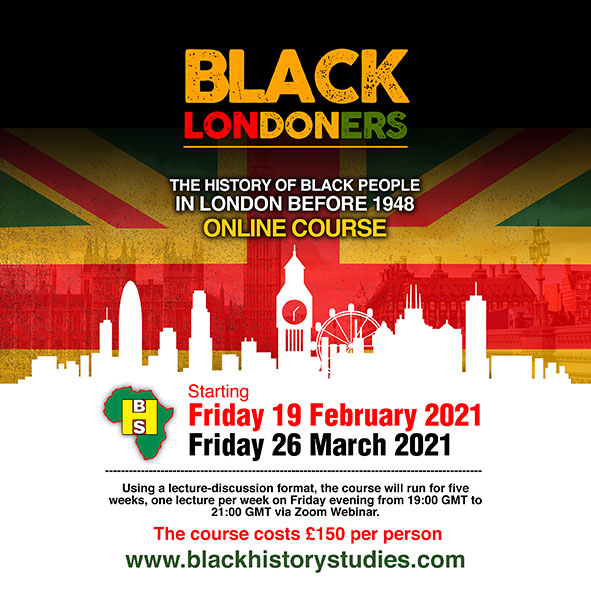 This fascinating course of 5 lectures will focus on the contributions made by people of African and Caribbean descent to London in the areas of Literature, Politics, Music, Sports, Entertainment, Royalty and Health before 1948.
This course is important as this area of study has been seriously neglected and will provide the students with the knowledge of the invaluable input people of African and Caribbean descent have provided to London, from the 16th century to 1948.
Clearly there is a need for this sort of information.
After all: Can YOU name 10 people of African and Caribbean descent who have contributed to the history of London before 1948 in the areas of Literature, Politics, Music, Sports, Entertainment, Royalty and Health?
This is an introductory course and assumes no prior knowledge of the subject area, but the adult student is taken through an avalanche of information. Reading lists are provided. There are no entry requirements for this course and learners will not have to take any exams.
Using a lecture-discussion format, the course will run for six weeks, one lecture per week on Wednesday evening from 19:00 GMT to 21:00 GMT via Zoom Webinar.
The course costs £150 per person.
COURSE CONTENT:
Week 1: Literature
Week 2: Politics
Week 3: Music
Week 4: Sports & Entertainment
Week 5: Royalty & Health
HOW TO BOOK
To book your place offline via using cash, bank transfer, cheque or postal order, please email info@blackhistorystudies.com for a booking form.
To book online and pay by credit card, click the buy now button (PayPal transaction fees are payable). 
Please ensure that you have read our terms and conditions before booking using this method. 
Here are some comments from evaluations forms completed by past students:
"Very good course, the research was outstanding. This is certainly given me food for thought and I will be conducting my own research into all those who we have learnt about."
"Oral, visual and musical with handouts. What more could you ask for?"
"I enjoyed the variety of the course and learning about pioneering Black people in Literature, Music, Politics and Health. There were a number of "Black firsts" that paved the way for us."
"Excellent course of excellent value! I really enjoyed learning. This has ignited a new passion to learn in me."
"The way the course served as an introduction to the numerous interesting historical figures and provided references to assist with individual research. Also, there was good opportunity for class discussion."
"I would recommend this course to anyone who wants to know more about our history in London. They will find our history everywhere in London and will be reminded of how much Black people have achieved in difficult times."
"I enjoyed the fact that Black people contributed so much to London, not just post-Windrush but also as far back as the 17th century."
"A definite eye opener. It was all interesting and mind blowing"
"I have learnt a lot about the History of Black Londoners before 1948 which has been very interesting and informative."
Places on these courses are limited.
Places are available on a strictly first come, first served basis and we anticipate that there will be a lot of demand for this course.
If you would like to attend this course, please contact us for an enrolment form.